Welcome to Zampelles
Zampelles Coffee Company has two Tea and Coffee Lounges in the Johnsonville Mall and the Queensgate Mall Lower Hutt.  We specialize in homemade savouries, sandwiches, cakes and scones together with a full breakfast menu and a selection of hearty hot meals. Roast dinners are available on Thursday and Friday nights.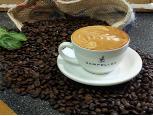 Zampelles has our own freshly roasted and uniquely blended coffee using a combination of Guatemalan, Kenyan and Colombian beans which provides a full smooth flavour. This coffee is used exclusively in our stores and is also available to purchase in store or online.
Catering is also available for small to large functions with a variety of sandwiches, cakes, savouries, hot meals including roast dinners.  Delivery free in the Wellington area.
Zampelles prides itself on consistently producing high quality food and freshly roasted coffee. The owners Graham and Liz Salisbury came to Zampelles in 1998 - over sixteen years in the business has taught them to use only fresh ingredients and high quality coffee beans. Thousands of customers can't be wrong!